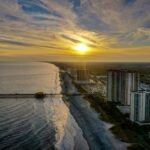 Myrtle Beach starts to wind down Labor Day weekend.  The crowds are smaller, kids are back in school but the weather is great.  Here are a few Labor Day Weekend events to consider.
Broadway at the Beach Calendar of Events
Say goodbye to summer with one last bash at Broadway at the Beach. Labor Day Weekend includes live music, strolling character appearances, LED dancers, and more! Broadway at the Beach will also feature Labor Day Weekend sidewalk sales at their shops. 
Barefoot Landing
See Barefoot Landing's schedule of events for Labor Day weekend.
Local on the Water presents…
ON the BORDER –The Ultimate Eagles Tribute and Landslide, A Tribute To Fleetwood Mac.  BOTH ARE TICKETED EVENTS.

Details
Monday, September 7th, 2022 & September 17, 2022.
Please check the website for info.
The Hangout
One of the new attractions to Broadway at the Beach, The Hangout is the spot to, well, hangout! With live music, an extensive food and drink menu, and wide open space to play yard games, The Hangout is the perfect Place to celebrate summer at The Beach. The staff at The Hangout also encourages their guests to dance on the tables (engineered for safety) and play in the foam party every hour!  Live music nightly from 6:00-10:00pm.  
The restaurant features full-service dining, and a courtyard with a ton-of-fun sand pile, foam pit, games, retail shopping, stages for live music and more.
There are also two outdoor bars by the stage. They do supply chairs outside but may be a good idea to bring your own or a blanket.