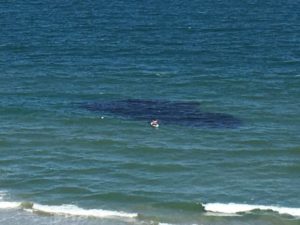 Marine Life Found On The Grand Strand
Marine Life found on the Grand Strand, Myrtle Beach S.C. includes, Atlantic Sharp Nose, Spinner, Tigers and Sand Bar Sharks, Turtles, Jellyfish, Stingrays, Manatees and dolphins.  You can spot Dolphins, Stingrays, Jellyfish and some Sharks from the Myrtle Beach shores. There are certain types of Sharks as the weather get warmer that come from the Gulf Stream about 60 miles offshore.  Myrtle Beach offers 60 miles of sandy beaches with great temperatures all year round. To see some the marine life visit the Ripley's Aquarium in Barefoot Landing, Myrtle Beach.
There are many marine life fish found in Myrtle Beach including:
   Angelfish
   Sea Turtles
   Bottom Dwellers
   Coral and Sponges
   Barracuda
   Jewfish
   Sharks
   Sunfish
School of Stingrays taken from a South Hampton oceanfront balcony. Man in canoe shows how large the school is.
Beach Combing Tips:
*Never take live animals– return them safely back into the water. Always protect our precious marine resources for the future!
*If you find a snail shell, you can tell it's alive if something is still in there. The shell will keep growing as the snail grows. The snail will not and cannot move to a new shell!
*The best time to go beach combing is around low tide and after storms. The best places to look are at the waters edge and the wrack line or high tide line.
*Myrtle Beach and Huntington Beach State Parks can be great places to go beach combing.
*Remember to always use a boardwalk or designated path to reach the beach and always stay off the sand dunes. Read More from the South Carolina Parks.