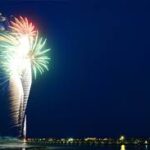 Myrtle Beach New Year's Eve is the place to be.  The beach is a great way to make the New Year memorable, fun and unique!  Time to put your feet in the sand and leave the snow behind with these fun places. 
Market Common December Events and New Year's Eve 2022/2023
843-839-3500
4017 Deville St, Myrtle Beach, SC.
9:00 – Midnight
Entertainment: Live music, beer garden, a live feed from New York City's Times Square and free street entertainment. Ball drop and fireworks at Midnight.
Brookgreen Gardens NIghts of a Thousand Candles
Stroll Under the Lights
843-235-6000
1931 Brookgreen Dr, Murrell's Inlet
Hours: 4:00 to 9:00 p.m.
Reservations: Required
Tickets: $30.00 for members & $35.00 Non-Members
Entertainment: Thousands of candles and music. Light refreshments will be available for purchase.
Barefoot Landing
843-235-6000
4898 Hwy 17 South, Myrtle Beach
Shop at the Barefoot Landing stores and enjoy dinner at any of their dining options.
LuLu's Noon New Year's Eve in Barefoot Landing
843-235-6000
4954 Hwy 17 South, Myrtle Beach
10:00am – 1:00pm
LuLu's is celebrating New Year's Eve for families during the day. A fun filled day for both kids and adults. There will be crafts, kid safe fireworks (bubble wrap,) and a sand castle building contest are only the tip of the iceberg. When the clock strikes NOON there will be a huge beach ball drop over LuLu's Beach! Hundreds of colorful beach balls will flood the beach, but the excitement doesn't stop there. A live band, face painting, balloon animals, and more will be at LuLu's to start your New Year's celebration off right.  Don't miss this first year event, which will soon be a family tradition!
Medieval Times Dinner & Tournament
888-236-4635
2904 Fantasy Way – Myrtle Beach
Medieval Times has shows throughout the year but reserve the 9:30 pm show on the 31sh to enjoy dinner and show with a New Year's Eve twist. The event includes as always appetizers, a live show and a delicious four-course feast.  For New year's the package will also include free party favors, a tour of the medieval museum of torture, and a DJ dance party. In addition, there's a champagne toast as well as a balloon ball drop at midnight.
You can't go wrong with any of the Myrtle Beach December and New Year's Eve options.