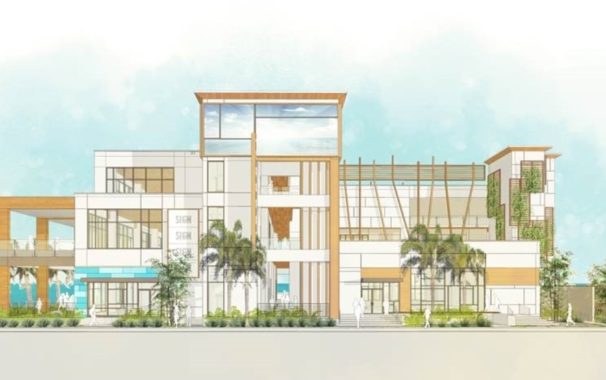 Coming Soon – Spring 2018
A large 55,000 sq.ft. oceanfront entertainment complex is under construction on the downtown Myrtle Beach Boardwalk.  The complex features glass exterior walls, outdoor seating with a contemporary look. 
The entertainment complex is located at 1410 North Ocean Boulevard, 14th avenue north, where Banditos Restaurant used to be.  Banditios will reopen in the complex.
The grand opening is set for Spring of 2018 with restaurant and entertainment options.
Set to open in the complex is: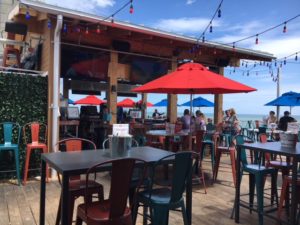 Tin Roof is a Nashville based venue that will occupy the entire third floor of the complex with an oceanfront rooftop patio, live music, great food and a full bar. (Went here for the first time in May 2018.  Awesome Views!  And….. just a cool place.)
Burger Fi is a national burger chain and will be located on the ground floor of the complex. They will feature quality food, full bar and will also serve hot dogs, onion rings, fries, frozen custard, and floats.
Papa's Raw Bar is from Lighthouse Point, Florida that will add a Bahamian atmosphere to the complex. It will feature fresh local food with a casual island style atmosphere, seafood and more than 100 beers.
The Bimini Room is a sister bar and restaurant to Papa's Raw Bar.  It will be on the second floor with a rooftop patio overlooking Ocean Boulevard. 
The complex is hoping for a national coffee chain to join them.
The bottom floor will include retail stores with light groceries and beach essentials.  An oceanfront park will be a part by the complex.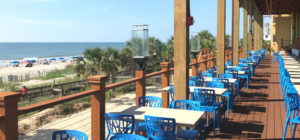 The new complex will give RipTydz Oceanfront Grille & Rooftop Bar a run for their money.  Riptydz has great food, entertainment and the views are spectacular.