Kingston Plantation
Kingston Plantation 5 Star Gated Luxury Resort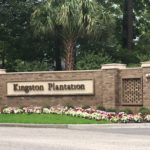 The Kingston Plantation Resort is located in Myrtle Beach, South Carolina and is in a class of itself when it comes to oceanfront resorts.  The gated resort offers 24/7roaming security throughout the 145 acres.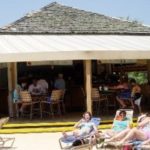 There are plenty of places to eat, drink and be entertained right in the resort from pool side casual to fine dining.  The Hilton has great outdoor oceanfront dining with entertainment and spectacular views.
An oceanfront walkway connects the resort to activities, restaurants, bars, entertainment and more.
The Kingston Plantation is centrally located on the Grand Strand close to attractions, amusement parks, live music theaters, shopping centers, golf courses, nightlife and much more.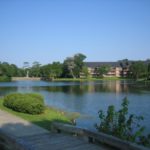 There are twenty acres of freshwater lakes scattered throughout the resort property. You will see wildlife, including beautiful black swans and snowy white egrets.  There is a walking path throughout for joggers, walkers and bicycles. The resort sets on 145 acres of oceanfront prime property that is gorgeous with lots of amenities.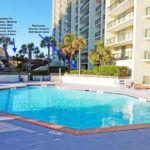 It is a short walk to the Embassy from the the South Hampton with a connecting walkway.  The South Hampton is close to pools, beach, Embassy and Hilton.  The Embassy and Hilton offers shopping, poolside and oceanfront dining, bars, snacks, Starbucks, entertainment, meeting rooms and more.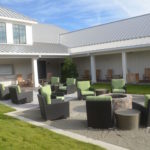 Kingston Plantation Fitness 78 Health Club
Stay active at the resort's dedicated fitness and sports center, Fitness78. The luxury facility opened in 2017 with fitness classes, personalized training plans, and a rejuvenating sauna.  78Fitness offers membership packages for individuals, couples and family packages. There are three golf simulators at the club and an outdoor putting green. 78Fitness has cardio and strength-training equipment, yoga classes, kickboxing and Zumba and personalized training plans. Direct number 1-843-497-2444.
Pool Area
Swim, dive or chill at the fitness club's large indoor pool designed for laps, but perfect for relaxation, too. There is a deck for lounging while the kids play in the splashpad area and there is also a heated whirlpool and aquacise classes.
Tennis and Pickle Ball Courts
Practice your serve on four lit tennis courts, three clay and one hard, four pickleball courts, sand volleyball court and horseshoe pit.
Spa33
Spa33 is located next door to the health club at the entrance to the resort with a salon that offers massages and spa services.  
Services Offered
Spa33 treatments blend ancient traditions with modern luxury. There are five tranquil treatment rooms, facials and body treatments, locker rooms with showers and steam rooms.   Call 843-497-1910 for appointments.
Massages
The serenity starts at Spa33 with their expert massage therapists that are trained in Swedish Deep Tissue, Stone and Prenatal massages.
Salon
You can be pampered at Spa33 with their luxury treatments, manicures, pedicures, and hair treatments. The lounge area is perfect for bridal parties and group getaways.

The Kingston Plantation Resort is a vacation paradise with all the amenities that are perfect for family vacations, girls get-away, golf outings, bridal and bachelorette parties.