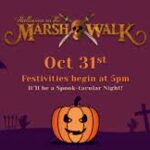 Halloween On The Marshwalk
October 31, 2022
5:00pm – 10:00pm
Ghosts, goblins, and ghouls of all ages will fill the Marsh at this year's annual "Halloween on the MarshWalk." The Marshwalk's longest running and most successful event, Halloween on the MarshWalk brings fun and prizes to the whole family! 
Festivities begin at 5pm with Trick-or-Treating along the MarshWalk for the kids. The annual Children's Costume Contest is at 6pm in front of Drunken Jack's at the Pirate Statue. Prizes will be awarded for the Most Creative, Best Group, Funniest, and Scariest for kids ages three and up. Kids ages two and under will compete for the Awes Applause award. Prizes include trophies, ribbons, and candy bags.
The Adult Costume Contest will begin at 7pm. Over $4000 in cash and prizes will be awarded to the top costumes. We ask that you make your way to the MarshWalk side of The Claw House no later than 9:30pm.
More Halloween Fun Events:
LuLu's in Barefoot Landing.
Barefoot Landing – Trick or Treat, 
Broadway at the Beach – Trick or Treat, Enjoy trick-or-treating at participating Broadway at the Beach and Barefoot Landing shops, restaurants and attractions!
The Hangout at Broadway at the Beach has a jam packed weekend of Halloween fun planned! Live music, games, daily costume contests and more!
Friday, October 28th
5-6pm: DJ Family/Foam Dance Party
6-10pm: Live Music
Saturday, October 29th
10am: ISI Spooky Workout
5-6pm: DJ Family/Foam Dance Party
6-10pm: Live Music
10pm-12am: Club Late Night DJ Days/ DJ Dank Williams
Sunday, October 30th
5-6pm: DJ Family/Foam Dance Party
5-8pm: Live Music
Monday, October 31st
4:30-6:30pm: Trick Or Treat at
Broadway at the Beach
5-6pm: DJ Family/Foam Dance Party