Myrtle Beach Dining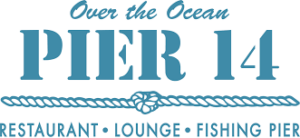 Dining Options Recommended by
South Hampton Homeowners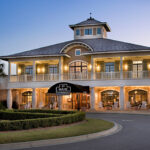 21 Main
– 48th Ave North Myrtle Beach – Pricey, but amazing food and service, especially if you are celebrating a special event.
https://www.21mainatnorthbeach.com/

"Experience world-class dining with the elegance and charm of a contemporary Southern estate. Our chefs offer a unique and creative take on a traditional steakhouse menu, complemented with the perfect vintage wine and extraordinary service.
"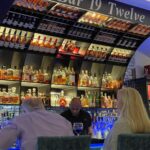 Bar 19 Twelve – 1912 Hwy 17 S, North Myrtle Beach – Bar 12 is very different than most dining options in Myrtle Beach.  It offers a lounge indoor atmosphere with great seating and music outside. https://bar19twelve.com/
"Bar 19 Twelve offers an entirely new classy-casual craft experience in North Myrtle Beach. Centered around an extensive bourbon list, creative craft cocktails, and infused liquors, the drink menu features premium cocktails conceived by our mixologist.
The concept of the food menu from Maryland's Chef Vinny Tumminello is from-scratch tapas, or small plates, including made-to-order deviled eggs, cheese boards. jalapeno bacon-wrapped shrimp, and limoncello risotto, as well as more traditional elevated pub fare like Kobe beef burger"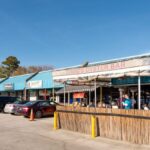 Bimini's
– 930 Lake Arrowhead Rd MB – Bimini's is a favorite seafood dining option recommended by many owners and is a local's hangout.  (If you have any allergies like shellfish or gluten, Bimini's will not accommodate or work with any allergies.  They were very honest and upfront about this which was appreciated.)
https://www.biminisoysterbar.com/

"A no-frills local oyster bar where you can enjoy huge, family-style steam pots of the best oysters, crab legs, and shrimp you'll ever eat and awesome drinks from the friendliest bar in Myrtle Beach – laid-back atmosphere, the freshest shellfish and seafood, and absolutely the friendliest service you'll find. There's always beach music in the air and a friendly crowd where the locals treat out-of-towners like one of their own."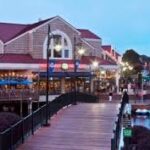 Boardwalk Billy's
– 1407 13th Avenue North, North Myrtle Beach, SC
We have been To Boardwalk Billy's a few times and it's always been a blast.  They are located directly on the Intracoastal Waterway with great views.
"Boardwalk Billy's NMB was founded in the Spring of 2013. We are located on the Doc Holidays Marina overlooking the beautiful Intracoastal Waterway. Boardwalk Billy's is a casual, family friendly restaurant with a view you cannot beat! Whether you sit inside in our cozy dining room or outside on our spacious deck, you'll have the same great food and service. Come enjoy our relaxed atmosphere, daily happy hour food & drink specials, live entertainment, and delicious dishes that are sure to satisfy any pallet!"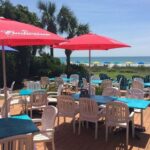 Bummz Beach Cafe
– located in Myrtle Beach close to all the action but far enough away.  Voted 10 of the best by USA Today for many reasons.  Bummz is located ocean front with great view and indoor/outdoor dining. They also have outdoor entertainment.
WATERFRONT DINING, FAMILY FRIENDLY: "The menu is loaded with can't-miss classics, but the Bummz Burger, which is loaded with bacon, coleslaw, mushrooms and two kinds of cheese, is a unique and filling fixture."
LUNCH, BEACH RESTAURANTS: "The menu is loaded with can't-miss classics, but the Bummz Burger, which is loaded with bacon, cole slaw, mushrooms and two kinds of cheese, is a unique and filling fixture."
OUTDOOR DINING: "Soak up the sun and watch the waves roll in on the back porch, one of the best beach hangouts on the Grand Strand."
BEST FOR WATERFRONT DINING BECAUSE: Bummz lets you sit in the sun, feel the ocean breeze, feast on comfort favorites and sip on a frozen drink all under one umbrella.
BEST FOR FAMILY FRIENDLY BECAUSE: Carolina Roadhouse's diverse menu features items for picky adults and kids.
BEST FOR LUNCH BECAUSE: Bummz's excellent location and view come with excellent food and drinks to match.
BEST FOR BEACH RESTAURANTS BECAUSE: Bummz has the best combination of great food, beach-party atmosphere and an unforgettable view.
BEST FOR OUTDOOR DINING BECAUSE: Bummz lives up to its name by attracting the laid-back, good-times beach bum crowd.'
https://bummzcafe.com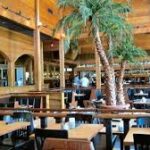 Carolina Roadhouse is located about 15 minutes north of the resort at 4617 N. Kings Hwy Myrtle Beach.  It comes highly recommended by numerous homeowners.  They offer a wide variety of menu options and have a family friendly atmosphere.
"Carolina Roadhouse is Golf Magazine's choice for 'Where To Eat With Your Buddies'. One of Myrtle Beach's most popular restaurants, this jam-packed eatery takes on Southern favorites, including fall-off-the-bone Baby Back Ribs, giant Seafood platters and the Killer Dog– a foot-long hot dog smothered in chili, cheese and fries. All of the outrageous (and perfectly messy) entrees are available to-go via online ordering."  https://carolinaroadhouse.com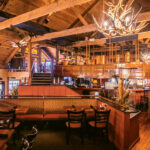 Chuck's Steak House – North Kings Highway  Chuck's Steak House is on 17 a few minutes from the resort and was recommended by numerous homeowners.  The food is very good and they have a small salad buffet that has always been fresh and crisp and early dining specials from 4-6:00pm. https://www.chuckssteakhousemb.com/


"Chuck's Steak House of Myrtle Beach is family owned and operated. We proudly serve ONLY Certified Angus Beef ® and Certified Angus Beef ® Prime. We encourage you to join our mailing list for exclusive members-only specials and promotions and receive a free appetizer!"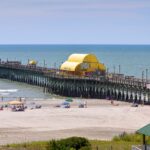 Croakers at Apache Pier came highly recommended by many owners and it's a short walk next door! Delicious shrimp, seafood and burgers.  Very casual, indoor/outdoor seating with great oceanfront views.  Open for breakfast, lunch and dinner seasonally.  Take a walk on the pier for a small fee.  (Coupons online) Seasonal outdoor music every night from Memorial Day to Labor Day.  They also rent fishing gear and have a nice game room with a small gift shop,
http://www.apachefamilycampground.com/copy-of-activities-/-entertainment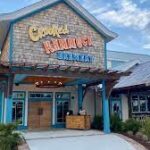 Crooked Hammock Brewery –
North Myrtle Beach

– Great food with lake views in Barefoot Landing.  The bar/restaurant is a cool area with swings and a relaxing atmosphere. "

In 2015, owner Rich Garrahan ditched his suit and tie to open a brewery at the beach. Some years, and many beers later, our backyard has been an escape for millions of people in search for easy-drinking craft brews, a family friendly environment, and backyard-inspired food

." https://crookedhammockbrewery.com/locations/myrtle-beach/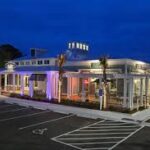 Croissants Bistro & Bakery – 8014 N Kings Hwy & 3751 Grissom Pkwy – Breakfast and Lunch fare – The croissants ARE amazing! Offering everything from in-house freshly roasted coffee to homemade soups and sandwiches to baked delicacies and catering.  They have a small bar that caters to breakfast drinks like Mimosas and Bloody Mary's.
https://croissants.net/
Hook and Barrel – 8014 N Kings Hwy (connected to Croissants) – Great Sunday brunch and a great variety of sustainable seafood dinners as well as a few pasta and steak/chicken dinners. Wine/beer/cocktails. https://hookandbarrelrestaurant.com/
"Hook&Barrel seafood restaurant will be a part of Croissants' new location. … OwnerHeidi Vukov said Hook&Barrel will focus on dinner and brunch on Sunday, while Croissants will concentrate exclusively on breakfast, lunch, brunch and catering.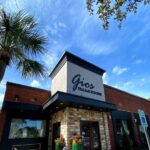 Gios Italian Kitchen
– 7915 N. Kings Hwy Myrtle Beach – Gios has some of the best Italian we have tasted.  It's a great atmosphere with friendly service and the food was excellent as a few homeowners have stated. 
https://www.giositaliankitchenmb.com/

"Located in Myrtle Beach, SC, Gios Italian Kitchen serves a variety of delicious cuisine and delicious menu items. We strive to bring together incredible food, great service, and a comfortable, inviting atmosphere to create an amazing dining experience. We also bring in a large selection of domestic and imported drinks to go with your meal and conversation. Gios Italian Kitchen invites you to come check out our menu, atmosphere, and beverage selection today. We look forward to serving you.
"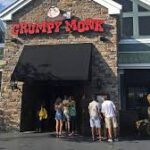 Grumpy Monk – The Grumpy Monk has 3 locations in the Myrtle Beach area.  The food is really good with a fun atmosphere.
https://www.grumpymonkmyrtlebeach.com/
Carolina Forest
4545 Hwy 501 Myrtle Beach, SC 29579
Broadway at The Beach
1317 Celebrity Circle Myrtle Beach, SC 29577
NORTH MYRTLE BEACH
1409 US 17S North Myrtle Beach, SC 29582
They are Proudly Owned By A Coastal Carolina Alumnus and in 2019 voted by the Sun News
Best Happy Hour – Winner
Best Craft Beer – Runner Up
Best Sushi – Runner Up
Best Sports Bar –  Runner Up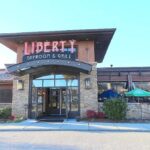 Liberty Taproom & Grill – 7651 N Kings Hwy – Great variety of food, including sushi. Great outdoor patio, good happy hour prices.
https://www.libertytaproom.com/location/liberty-taproom-myrtle-beach/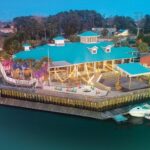 Local Bar & Kitchen
is
located directly on the Intracoastal Waterway 
.  They have great food and the views are unbeatable.
https://www.localonthewater.com/
"We live up to our name – We try as often as possible to use Local sources for our ingredients and drinks. 
Our menu is diverse and flavorful! Whether you're looking for something Southern-inspired, seafood, a great burger, or just appetizers to share, we've got something to please the whole group. 
We've got the best sunset view in North Myrtle Beach, so naturally Local is also the best location to grab a cold one with friends and enjoy a few laughs! Sit around the fire pit, dance to live music or a DJ, or share appetizers around one of our bars. No matter what you decide, you're in for a great time! "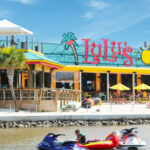 LuLu's
– Barefoot Landing – This is owned by Lucy Buffett, Jimmy's sister.  It is
located water front on the Intracoastal Waterway 
 in Barefoot Landing and offers great views.  They have live entertainment and very family friendly.  They have special events  like noon year's eve which is a blast, Halloween parties, Easter with the Easter Bunny and many more.  There is a rope climbing course and arcade owned by Lucy also next door.  They have a large sand area for the kids of all ages.  You can sit by the water or in front and people watch.
https://lulubuffett.com/northmyrtlebeach/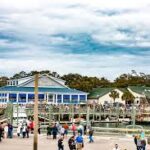 The Marsh Walk Dining – The Marsh Walk is located about 30 minutes south of the resort in Murrell's Inlet. There are seven restaurants directly on the marsh with great views and a family friendly atmosphere.
"The area's finest restaurants are located here and offer everything from burgers and fries to prepared-to-order fresh seafood, wood-fired pizzas and the finest steaks around."  
The Wicked Tuna Grill and Sushi Bar
HOOK TO PLATE
"The Wicked Tuna, Murrells Inlet's premier waterfront dining experience. A place where friends meet for a unique culinary experience of fresh handmade cocktails, the freshest seafood, steaks, and sushi, and the best views on the MarshWalk.
Our obsession with fresh seafood and top grade beef shine through in our signature cuisine. And our own fishing fleet insures our "Hook to Plate" fresh philosophy every day. We invite you to enjoy a truly unique dining experience. Where the environment is enchanting, the views exceptional, and the hospitality is impeccable. Come get wicked.
Creek Ratz
GREAT VIEW, GREAT FOOD, COLDEST DRINKS
"With a rustic nautical atmosphere, indoor and outdoor dining along with indoor and outdoor bars, Creek Ratz is a Murrells Inlet Restaurant with something for the entire family. Creek Ratz Restaurant is located along the Murrells Inlet Marsh Walk with spectacular views of the Murrells Inlet waterfront.
Creek Ratz has reasonable prices, a full raw bar, fresh seafood, sandwiches, salads, appetizers, pizza, a children's menu, daily happy hour, live entertainment, and plenty of TVs to watch your favorite sporting events so it's easy to see why Creek Ratz is everybody's favorite Murrells Inlet Restaurant."
Drunken Jacks
Seafood So Fresh It Might Pinch Ye
"Welcome to Drunken Jack's, home to the freshest seafood in Murrells Inlet, the seafood capital of South Carolina! The stunning views of the inlet accompanied by a menu from the 2015 South Carolina Chef of the Year make Drunken Jack's an absolute must on the to-do list for anyone looking to experience the best that the Grand Strand has to offer. The sprawling patio allows diners to take in the panoramic view of the Inlet including Goat Island, home to both the goats as well as the naturally beautiful plumage of their peacock friends.
With eight craft beers on draft, the lower-level lounge provides a spacious area for patrons to relax while they enjoy one of our specialty libations poured by our skilled bar staff. The lounge is also home to excellent live music played by favorite local artists throughout the week to entertain guests during their stay with us. If you like breathtaking views, award-winning food, and live entertainment come see us at Drunken Jack's and we'll show you some Southern Hospitality."
Wahoo's Fish House
"With delicious food and drink in a stylish yet unpretentious setting, Wahoo's Fish House brings a refreshing new option to locals and visitors looking for a top-notch Murrells Inlet dining experience. This stylish creekside restaurant offers an extensive menu of creative and innovative cuisine including fresh Murrells Inlet seafood and artistic Murrells Inlet sushi options.
Located right off the celebrated Murrells Inlet Marshwalk, this two-story seafood and sushi restaurant is crafted with large windows overlooking beautiful and charming marsh front views. Come join us for the best eats and drinks on the inlet. After your dining is done, stroll next door to Wahoo's Bar & Marina to enjoy the best live entertainment Murrells Inlet has to offer. Travel by boat or car; we have plenty of docks and a lot space. Wahoo's will quickly become one of your favorite Murrells Inlet restaurants."
Bovine's Wood Fired Specialities
Wood Fired Steaks, Seafood & Pizza
"Bovine's is a refreshing dining destination for locals and out-of-towners alike. With delicious wood-fired specialties in a relaxed, warm atmosphere, Bovine's Restaurant offers an exceptional dining experience right off the Murrells Inlet Marsh Walk.
This waterfront restaurant has an extensive menu featuring a range of items to please everyone, from the dedicated carnivores to the choosey eaters. Showcase menu items include wood-fired grilled steaks, succulent Murrells Inlet seafood and specialty pizzas straight from the brick oven."
The Claw House
The Claw House offers seafood delicacies from both local waters and those of the cold north Atlantic. They have over 90 Craft Beers on Tap with Cocktails and Wine.  Check out their daily specials.
Dead Dog Saloon
Family Restaurant Serving Breakfast, Lunch & Dinner
"Murrells Inlet, "a quiet little drinking village with a fishing problem" is the perfect home for The Dead Dog Saloon and its tongue-in-cheek homage to its mythical canine mascot, Dudley. This seafood-and-entertainment-Mecca sits just 20 minutes south of Myrtle Beach on the tidal marshes and creeks that have beckoned seafood lovers for centuries.
Opened in 2002 on The Marshwalk (featured on the Travel Channel and Southern Living magazine), the Dead Dog Saloon is a full-service family-friendly restaurant during lunch and dinner hours, and with three bars, plenty of large-screen HD TVs, and the finest live music in the Carolinas, The Dead Dog Saloon turns into a happy-hour hangout and an after-dinner party spot for dancing."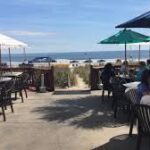 Molly Darcy's
– North Myrtle Beach 17th Ave – Molly Darcy's sits
directly oceanfront
with a locals atmosphere.  Their Irish dishes are excellent and great views.  It's very casual and needs some updating but the food has always been great along with the views. 
https://www.mollydarcy.com
"Molly's is an Irish family-owned pub. It was established in 2000 and became Greater Danbury's liveliest bar for entertainment, great food, cold beer and cocktails. Well known for social banter among locals, live music, and a friendly and accommodating staff, you'll quickly find yourself at the bar enjoying a Guinness, or sharing a meal with family and newfound friends. With such success at Danbury, CT, the owners opened its second location in North Myrtle Beach, SC in 2005. It's well known for social locals and a friendly staff; when you come to visit Molly's on the Beach you will find yourself on the patio with the ocean breeze in the air enjoying a refreshing cocktail and a delicious meal."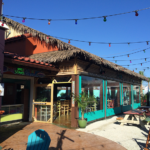 Nacho Hippo
– 48th Ave North Myrtle Beach & Market Common – Good Mexican food! Lots of fun, good bar, live music on the weekends and it has big garage doors, and walls that they open up so it feels safer right now.  Their tacos are great.  They also have a location inside Myrtle Beach airport.   
https://nachohippo.com/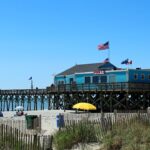 Pier 14
is
located directly on the water
with great views in Myrtle Beach!  Their food has always been excellent to many owners who recommended them.
http://pier14.com/
HOW IT STARTED
A pier of one sort or another has been a part of this oceanfront location since 1926. The current pier originally opened as a night club and a late night dinner venue in 1984. However, Pier 14 under that concept did not take off as expected. Upon the arrival of Bryan Devereux (current owner) in 1986, our focus changed to a concept of food and beverage.
In 1984, when Pier 14 was rebuilt, it was approved by the Corps of Engineers and given a 25 year life span. In September of 1989 Hurrican Hugo did its best to shorten that life span, however Pier 14 refused to buckle. Some of the damages sustained included the loss of the front ramp leading to the restaurant and the complete loss of the actual pier that extended more than 90 feet beyond the restaurant over the ocean. The restaurant portion remained intact. In fact, it was one of the only piers to survive Hugo's force. Pier 14 was closed for 5 months due to Hugo.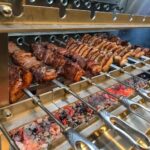 Rioz Brazillial Steakhouse
– 2920 Hollywood Dr. MB, 1315 HWY 17 North, NMB
NOT your typical steakhouse
 "Extensive fresh market selection of hot and cold seasonal favorites, which features seafood and sushi. A continuous table-side service offers savory choices of more than 15 different cuts of beef, pork, lamb and poultry are prepared and presented by our Gauchos."
In addition to good food, this is a really fun experience! The "salad bar" is not your typical salad bar – it has so many different kinds of items that I would go back just to enjoy it.  The Gauchos are so attentive and so much fun – and while the many different kinds of meat are delicious, the fried pineapple and fried plantain are to die for! https://www.rioz.com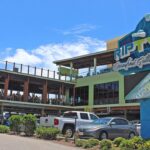 Riptydz
– 1210 N Ocean Blvd Myrtle Beach – Riptydz has awesome views and great food with live entertainment.  They are
located directly on the water
On The World Famous Myrtle Beach Boardwalk!.  They offer free valet parking or you can park in one of the paid lots if you want to explore the shops.
http://www.riptydz.com/
"Welcome to RipTydz Oceanfront Grille & Rooftop Bar! Located on the world famous Myrtle Beach Boardwalk, RipTydz is the newest dining attraction bringing a new taste and excitement to the Boardwalk and creating a one of a kind oceanfront dining experience. Part restaurant, part beach bar – Riptydz has something for everyone looking for something new on the Myrtle Beach Boardwalk. With over 17,000-square-feet and 500 seats, RipTydz is serving up fresh seafood, prime steaks, and fresh local favorites unlike anything else on the Boardwalk!. So make plans to get ripped at Riptydz!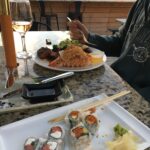 Soho Steaks-Seafood-Sushi
Soho serves great steaks and sushi.  They have a very large menu with dining options for everyone.  Soho is located on the inter-coastal waterway on N Kings Highway a few minutes from the resort. There are options to sit outdoor or inside with a great atmosphere for both.
https://sohomb.com/
Their Story
"Soho embraces cultures, offering an extensive menu that includes sushi, steak, pasta, and many different types of seafood. Known for its cosmopolitan atmosphere and universal cuisine, it has been a top choice for locals and tourists in Myrtle Beach for many years. With a location just two blocks from the oceanfront, and another on the Intracoastal Waterway, Soho doubles as a savory eatery by day and a chic hotspot by night. The stylish interior brings an artistic element to the diner experience with artwork, lighting, and modern furnishings, plus relaxing music keeps the lounge going after hours. Whether it's girl's night or a first date, the urban vibe at Soho sets it apart from other places in the area and provides a dynamic experience that's not to be missed."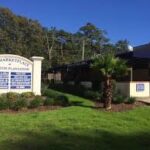 Spanky's Pub House
– 9776-A Kings Rd – Great burgers and egg rolls! Good appetizers – VERY casual!  Spanky's comes highly recommended by numerous owners and it can be a nice walk to the entrance of the plantation
"Our concept is to offer fresh made to order food in a fun and friendly atmosphere.  Now becoming known for our unique egg rolls and pudding shots. We thrive on our slogan "Just a Cool Little Place." .  https://www.spankyspubhouse.com/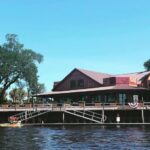 Taco Mundo
– Barefoot Landing – Good Mexican food, a more extensive menu than Nacho Hippo, also has the open walls.  You have great
water front views of the inter-coastal waterway
and it's fun to watch the boats and jet skis.
https://www.tacomundocantina.com/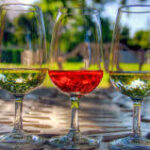 Wineries
Visit Duplin Winery for wine tasting, live music and a great atmosphere.
Wine Tastings:
"Looking for a perfect way to unwind after a long day? Uncork the sweeter side of Myrtle Beach, South Carolina at Duplin Winery, makers of America's favorite Muscadine wine. Kick back with a glass of something cool, sweet and easy, or gather some friends for a wine tasting.
Our wine tastings let you sample at least ten preselected Duplin wines while one of our associates will walk you through the flavors and history of each wine.
Our $10.00 deluxe wine tasting includes a gourmet cheese dip, homemade gourmet crackers, and a glass of wine after the tasting has been completed."
La Belle Amie Winery has beautiful manicured grounds with wine tasting and live music.  Their outdoor B-B-Q offers burgers, sausage and sides.
"The Beginning
La Belle Amie Vineyard is owned and operated by Vicki. The wine and gift shop was built in 1999, in part from trees removed from the building site. But the effort to build La Belle Amie Vineyard began years prior to the opening of its wine and gift shop in early 2000…….Read More
(Check if their BBQ is open)