South Hampton
South Hampton Kingston Plantation | Oceanfront Resort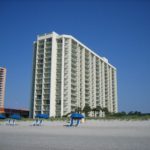 The South Hampton is located in the beautiful five star gated resort in the Kingston Plantation, Myrtle Beach, South Carolina.  The resort has 24/7 roaming security and the building is in a convenient location next door to the Embassy Suites Hotel with a connecting walkway.  The walkway leads to the Embassy with meeting rooms, dining, bars, Starbucks, entertainment, gift shops, snacks and more.
There is an oceanfront boardwalk that connects the South Hampton to resort restaurants, bars, activities, entertainment and more. There is a ramp directly in front of the building, by both pools that goes to the beach with no steps making it an easy haul with kids, beach items, stroller or Wonder Wheelers .  There are also restrooms by the pools.
The South Hampton has shopping and luggage carts by all three elevators to help with your luggage or shopping spree. Parking for the guests is right outside the building on the north side. The parking is all one level with no ramps.  The parking under the building is for homeowners only.  You must display an owners permit in your window.
South Hampton Amenities
The South Hampton construction started in 1985 and was finished in 1987.  It has very spacious floor plans, three elevators, two oceanfront pools, one private for guests and homeowners and endless oceanfront and coastline views. The third pool is located in St James villas off the beaten path, about a 5 minute walk. There are two elevators located in the lobby by the Embassy walkway and a back elevator close to the ocean and both oceanfront pools and restrooms. The building consists of one bedroom efficiencies to three bedroom units with a lockout.  There are oceanfront, ocean view and lagoon/lake units for rent and some are occupied by full time owners. The views from The South Hampton are spectacular and in my opinion, the best of all the high rises and villas in the resort.  We have beautiful coastline views to the north with no building obstruction and to the south is the historical Apache Pier.
The resort is located oceanfront in the north end of Myrtle Beach close to attractions, entertainment, dining, shopping and more. The building is centrally located in the resort and the resort is in a perfect location along the Grand Strand.
Barefoot Landing is 10 minutes to the north and Broadway at the Beach is 15 minutes to the south.  Both shopping/dining complexes are constantly growing and adding new and exciting dining and shopping options.  There are many dining options within a a 5 minute drive of the South Hampton and some you can walk to inside and outside the resort.