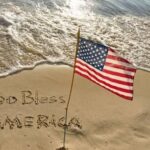 Pawleys Island 4th of July Parade (July 4, 2023)
Pawleys Island Parade is an entertaining community event that takes place annually in the town of Pawleys Island. Participants with rich imaginations create "floats" from convertibles, flat-bed trucks, or golf carts, which are mostly decorated in red, white, and blue.
Murrells Inlet Boat Parade (July 4, 2023)
Murrells Inlet Boat Parade is a jaw-dropping competition for the best-decorated boat. Numerous spectators can watch the event from several locations along the Marshwalk. This event of festive boats starts at Garden City Point and passes the Marshwalk straight to Morse Park Landing. Fireworks in Murrells Inlet begin around 10 pm at the end of Veterans Pier. They can be observed from anywhere along the Marshwalk.
Surfside Beach 4th of July Celebration (July 4, 2023)
Join The Surfside Beach 4th of July Celebration, which takes place at Surfside Pier and is located between Ocean Boulevard and Surfside Drive. The event features unforgettable live entertainment and amazing family fun.
Independence Day 5K and 8K (July 4, 2023)
Independence Day Race is an annual 4th of July event with options of a 5k or an 8k involved. It is a great way to open the 4th of July celebrations, so the race usually starts early in the morning in The Market Common near Valor Park and finishes in the same place.
Barefoot Landing Fireworks
Monday July 3rd 10:00pm
Tuesday July 4th 10:00pm
Broadway at the Beach Fireworks
Tuesday July 4th 10:00pm
Cherry Grove Pier Fireworks
Tuesday July 4th 9:30pm
Downtown Myrtle Beach (Second Ave Pier)
Tuesday July 4th 9:00pm
Murrells Inlet MarshWalk Fireworks
July 4th 10:00pm
Sands Ocean Club/Ocean Annie's
Starts at Dark