Kingston Plantation Dining
Kingston Plantation Dining | Oceanfront | Pool Side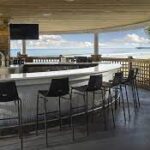 Kingston Plantation Dining is endless.  You can start off the day with a morning coffee at Starbucks from the Embassy or Hilton and end the night at one of the restaurants or bars.  There are many different places to eat with Kingston Plantation Dining. There is a variety from grab-n-go to casual and high class sit down.  The views are spectacular no matter where you dine or decide to have a drink. Live entertainment from Memorial Day to Labor Day at the Hilton and Embassy.
Vintage Twelve Restaurant
Upscale Kingston Plantation Dining at the Vintage Twelve Restaurant is the newest restaurant in the Resort. 
The oceanfront contemporary restaurant seats 44 and the views are gorgeous.
The menu features something for everyone including grass-fed natural beef, fresh fish, local organically grown vegetables and a wine list from around the world.
Vintage Twelve Restaurant Menu
843-497-7300 (For reservations in the busy season)
Hours are 5 p.m. to 10 p.m. daily
Cafe Amalfi
Café Amalfi in located in Kingston Plantation resort inside the Hilton.  It's a beautiful oceanfront restaurant that is open and airy. The Amalfi is casual fine dining at its best. The views are stunning whether you having breakfast, lunch or dinner.  Menu
Coastal Grill
The Coastal Grill is located at the Embassy Suites Hotel in the Resort.  It features casual dining options for breakfast, lunch and dinner.  The menu is large from seafood to burgers. You can dress up or go in flip flops.  This is a great family place to eat at the Kingston Plantation. 
They are great for gluten allergies. Menu
Starbucks
Located in the lobby of the Embassy Suites and Hilton. Starbucks offers grab-and-go sandwiches, milk shakes and pre-made salads. A great way to start your morning.
Black Drum Beer Garden Under Construction
Beach Combers Wet Whistle
Located directly oceanfront in the Hilton Hotel by the pools is the Beach Combers restaurant. This outdoor, casual restaurant is open daily from 11:00 a.m. to 5:00 p.m. Light menu items and beverages are served in this setting overlooking the pools and ocean. The Wet Whistle Pool Bar has to be one of the best beachfront bars on the beach. This bar is open daily in season from 11:00 a.m. until 12 o'clock in the evening. This bar is also known for the Wet Whistle "Drink of the Day" and for live bands playing everyday in the summer.
You can't go wrong with any of the Kingston Plantation Dining choices.
At the resort's entrance there is Spanky's and Pizza Chef.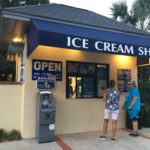 And some of the best Myrtle Beach Ice Cream. Cindy and Jim's Ice Cream located at the resort's entrance.  Cindy and Jim are also resort owners and they make a great peanut butter sundae.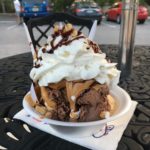 Embassy 2021/2022 Outdoor Renovation
Kingston Plantation New Owners