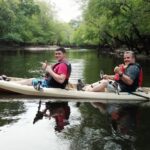 River Island is a one-of-a-kind destination where guests can escape, explore, relax, discover and unwind in a true nature setting.
They are the only adventure outfitter that has an outpost on the Waccamaw River that features 1 acre of fun yard games, tree swings, hammocks, large fire pit, clean bathroom, boat dock and ramp and river side picnic tables.  They have access to a 48 acre private island in the middle of the river to explore and camp overnight!
They offer a variety of activities and adventures, including Escape River Island, Inner Tube Float Trips, Kayak and River Boat Tours to their private island.   They offer overnight River Camping Trips, Birthday & Group Events.   Check out their Event Page to keep up with all their exciting events.
Escape River Island is an outdoor adventure challenge that is a mixture of Survivor, Escape Room and Amazing Race! Teams of 2 must work together competing against other teams to escape from a secluded island on the river!
Up to 6 teams of 2 people each are guided to a secluded 48 acre private island on the Waccamaw River and will compete in up to 10 Survivor-style challenges and solve clues to unlock their tandem kayaks and race a half mile up river back to our Outpost. Your Adventure Host will give you all the instructions and be with the teams on the island throughout the challenges. All participants must be at least 16 years old (unless playing on the same team as their parent/guardian) and sign a waiver prior to the activity. This adventure is in a true nature setting that requires the participants to be able to paddle, navigate through a forest environment in addition to solving clues and completing physical challenges with their partner. 
Activity length is 2 hours and advance reservations are required.
​This really cool place caught my attention when I was Googling, fun Myrtle Beach Activities.  They are located by North Myrtle Beach in Longs, SC.  River Island Adventures has so many outdoor activities for all ages and is a 24 minute drive from the South Hampton, Kingston Plantation.  
Arrive anytime and stay as long as you want!  
The Outpost facility has a bathroom, hammocks, swings, fire pit, shaded picnic table areas and propane grill. Feel free to bring a picnic lunch or burgers to cook on the grill. They also have a limited selection of drinks, ice cream and ice for sale.
River Island Adventures is located at 1249 Vera Road, Longs, SC. 
You can check out their website below for pricing, availability and all their fun activities. 
Tel: (843) 882-7487