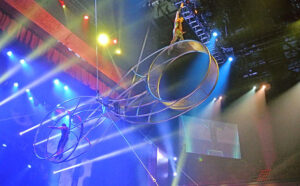 The great shopping, entertainment and dining just keeps coming to Broadway at the Beach.
Le Grand Cirque Opens Summer of 2021 at Broadway at the Beach
Broadway at the Beach, a retail, dining and entertainment complex located in Myrtle Beach, SC. They teamed up with Dublin Worldwide Productions USA to bring Le Grand Cirque to the Grand Strand.
The show features groups of acrobatics chosen from around the world for their death-defying abilities and precision skills.
Le Grand Cirque will seat 850 in a fully air-conditioned tent in the southeast corner of Broadway at the Beach. 
Tickets cost between $34.95 and $49.95 for adults, and $12.95 for kids 12 and under. Shows are Monday through Saturday at 7:30 p.m. with matinees at 4 p.m. on Wednesdays and Thursdays. For more information or to purchase tickets, visit www.cirquemb.com or call (843) 626-7645.
For more information about Broadway at the Beach, visit www.BroadwayattheBeach.com.
https://www.broadwaytheatermb.com/venue

Another New Addition
The Hangout
Major New Entertainment And Dining Attraction
The Hangout Heading To Broadway at the Beach
The Hangout will serve seasonal seafood dishes, beachside burgers, sandwiches and tacos, appetizers and sides.  Along with music and fun for the entire Family.  They will have music year round in both their indoor and outdoor stages.
The Hangout will be located in the southeast corner of Broadway at the Beach where the old AMC Theater was located.
They were scheduled to open in late 2020 but COVID pushed that date to summer of 2021.  
The Hangout's family entertainment will include dancing and contests led by cast members, a sand pile, fire pits and courtyard games. The 40,000-square-foot destination will include a retail store, a collection of Pez dispensers, and other interactive installations. You won't miss a game on their numerous big screens.
Special events will be offered throughout the year, including a magical Pirates and Princesses breakfast, featuring a scrumptious breakfast served family style, treasure hunts and entertainment.
"We are thrilled to welcome The Hangout, one of the most popular family entertainment destinations on the Gulf Coast, to Broadway at the Beach," said Chad E. Carlson, executive vice president of the Commercial Division at Burroughs & Chapin. "The Hangout's high energy and family-friendly atmosphere will appeal to guests of all ages and will be a perfect complement to our thoughtfully curated collection of guest experiences."
The Broadway at the Beach location will be the second for The Hangout with its original located in Gulf Shores, Ala., that opened in 2008.
For more information about The Hangout, visit https://www.thehangout.com/.