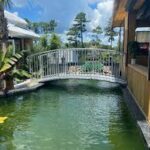 SOHO Steaks, Seafood & Sushi is located outside the Kingston Plantation across from CVS at 9715 N Kings Hwy, Myrtle Beach, SC.
HOURS Monday-Sunday 10am-12am
This is SOHO's second location and opened in 2020.  We have visited them many times and the food and service has always been great.  They have a nice outdoor area in the back overlooking the inter-coastal waterway which has nice views.  There is a bridge that goes over a fish pond for the kids to enjoy.  
Their sushi has been very very good with many different options and their steak and lobster is excellent and reasonably priced. See Menu
There is  The Chophouse and Casa Mia an Italian restaurant upstairs also.  You can check out SOHO's breakfast menu here.
SOHO did an excellent job for social distancing and all employees wore a mask every-time we were there.  Their decorations for different holidays are an added bonus.  For Halloween the staff did a great job decorating and all the employees dressed up, it was a fun time in a casual atmosphere.
SOHO Rooftop 21 is their first location located at 407 21st Ave N, Myrtle Beach, SC. Monday-Sunday 11:30am-1am
"Soho embraces cultures, offering an extensive menu that includes sushi, steak, pasta, and many different types of seafood. Known for its cosmopolitan atmosphere and universal cuisine, it has been a top choice for locals and tourists in Myrtle Beach for many years. With a location just two blocks from the oceanfront, and another on the Intracoastal Waterway, Soho doubles as a savory eatery by day and a chic hotspot by night. The stylish interior brings an artistic element to the diner experience with artwork, lighting, and modern furnishings, plus relaxing music keeps the lounge going after hours. Whether it's girl's night or a first date, the urban vibe at Soho sets it apart from other places in the area and provides a dynamic experience that's not to be missed."