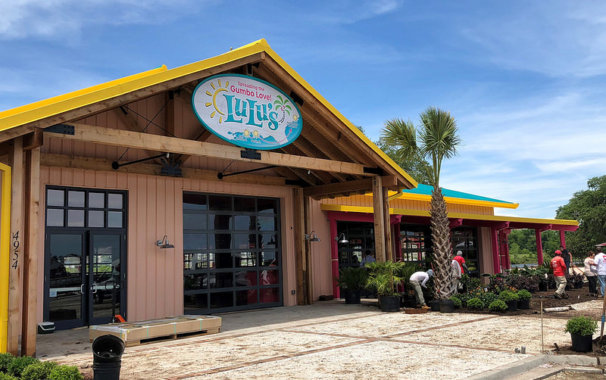 Lucy Buffett Grand Opening of LuLu's June 9, 2018
Lucy Buffett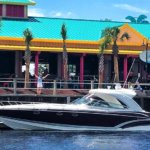 , Jimmy's sister, opened her third location of LuLu's at Barefoot Landing in North Myrtle Beach, South Carolina on Saturday, June 9 2018 in North Myrtle Beach, SC.
On the Alabama Coast in 1998, Lucy Buffett opened her first LuLu's.  LuLu's Sunset Grill had the reputation of a burger joint with great food. LuLu's Sunset Grill became a popular restaurant with seating inside and out so people could enjoy the sunsets and eat food recipes from LuLu's grandmother.  Her specialties were fried crab claws, fried green tomatoes and "L.A. Caviar," her signature black-eyed pea dip.
Her brother Jimmy Buffett has his own beer, Landshark distributed by Budweiser in St. Louis.  Lucy's beer is her Crazy Sista Honey Ale, brewed at Back Forty Beer Co. in Gadsden, Ala.
LuLu's 2nd location opened close to her brother Jimmy Buffett's Margaritaville, in Destin, Florida, June 15, 2015.
Which takes us her LuLu's third location in North Myrtle Beach, SC.  LuLu's is nestled on the shore of the Intracoastal Waterway in Barefoot Landing.  The restaurant is open-air with seating for 450 inside and out with its own beach.
To the back of the restaurant is theIntracoastal Waterway and the front has views of the lakes in Barefoot Landing with a sandy play area for kids.  There is sand on the side with Corn Hole and another play area for the kids.
New Addition for Lucy Buffett at Barefoot Landing
Opening soon will be an arcade and rope climbing.  It will be located by their huge sand pit where kids can play and mom and dad can have a relaxing game of corn hole.
I have been here many times and the food has always been great, their nachos are awesome.  They work very well with food allergies.  They actually have a manager come out and speak with you and have a special menu for all different allergies.
The atmosphere is the best on theIntracoastal waterway with live music.  The staff is another positive.  They are friendly and do a great job with their service.
Lucy Buffett came up with a great idea.  She offers a card that can be swiped at the time of your purchase to earn 10% towards a future purchase.  You can use the discount anytime and it never expires.  So present your card when paying and they will add the discount.
They were part of the 2018 Barefoot Landing Halloween party.  The staff all dressed up and handed out candy to the trick or treaters, it was cute.
Lulu's is located in Barefoot Landing, about a five minute drive from the South Hampton in the Kingston Plantation Resort.  A must see when in Myrtle Beach!