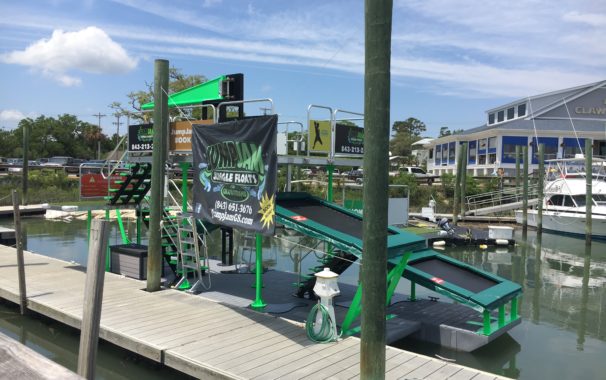 The Marsh Walk, Murrell's Inlet, South Carolina
The Marsh Walk is a 1/2 mile waterfront boardwalk located in the fishing village of Murrells Inlet, South Carolina. The dining and views are well worth a trip when visiting the area.  It's a great place for locals and visitors to come together.
The MarshWalk has some of the beast waterfront dining along the Grand Strand.  The restaurants offer the area's finest restaurants from burgers and fries to fresh seafood,  pizzas, steaks and crab.  The restaurants include Drunken Jacks, Wahoo's Fish House, Catfish Johnny's,  The Claw House, Wicked Tuna Grill and Sushi Bar, Bovine's, Creek Ratz and Deaddog Saloon. You can't beat the different choices in dining and the views are spectacular.
Taste of the MarshWalk, January 26th & 27th 11:00am – 4:00pm.
It's a good time to sample the chef's favorite dishes from eight award-winning restaurants for this 6th annual event. There will be local artisans, crafters, live music, bounce houses, face painting, and games.
You can sample small dishes of the areas freshest seafood and land lovers for $3-$5 per sample.
Don't forget the 3rd Annual Bloody Mary Showdown sponsored by Tito's Vodka! Visitors can sample different Blood Marys, then vote for their favorite.
The views, music, and fun are always free, no cover charge.
Luck of the MarshWalk, March 17, 2019
Head to the Marsh Walk for St Patrick's Day. Live music and drink special are sure to kick your Irishstep dancing into high gear.
July 4th on the MarshWalk July 4, 2019
The boat parade begins from Garden City Point at 12pm. The parade goes through the inlet, past the MarshWalk and south to Morse Park Landing.
The Grand Strand's largest aeriel Fireworks Show starting at 10pm with an awesome 22 minute fireworks display.
Inlet Clean Up, Thursday, July 5th (11am) – Help clean up debris from the Boat Parade and Fireworks to keep the waters and shoreline clean and safe.
New Year's Eve 2019/2020
The Marsh Walk for a fun night New Year's Eve with restaurants offering great dinner and drink specials with live music on all stages!
MarshWalk Masters TBA for 2019
Hushpuppies were perfected in Murrells Inlet .  It's the place where local and visitors have reported a meeting with local ghosts. Murrells Inlet was named by the post office in 1913 and the origin of this name remains a mystery.
The history includes Native American tribes, 16th century Spanish explorers and English colonists.  By the 1800s successful rice plantations were producing almost 47 million pounds of rice and were more successful than the tobacco  and cotton plantations of the Southeast.
People who visited Murrells Inlet in the 1800s traveled by steamboat and docked at the Wachesaw River Landing.  The river steamboats were known for excellent food and many of the steamboats' cooks settled in Murrells Inlet, giving the area a reputation for savory cuisine long ago.
4025 Hwy 17 Business
Murrells Inlet, SC 29576